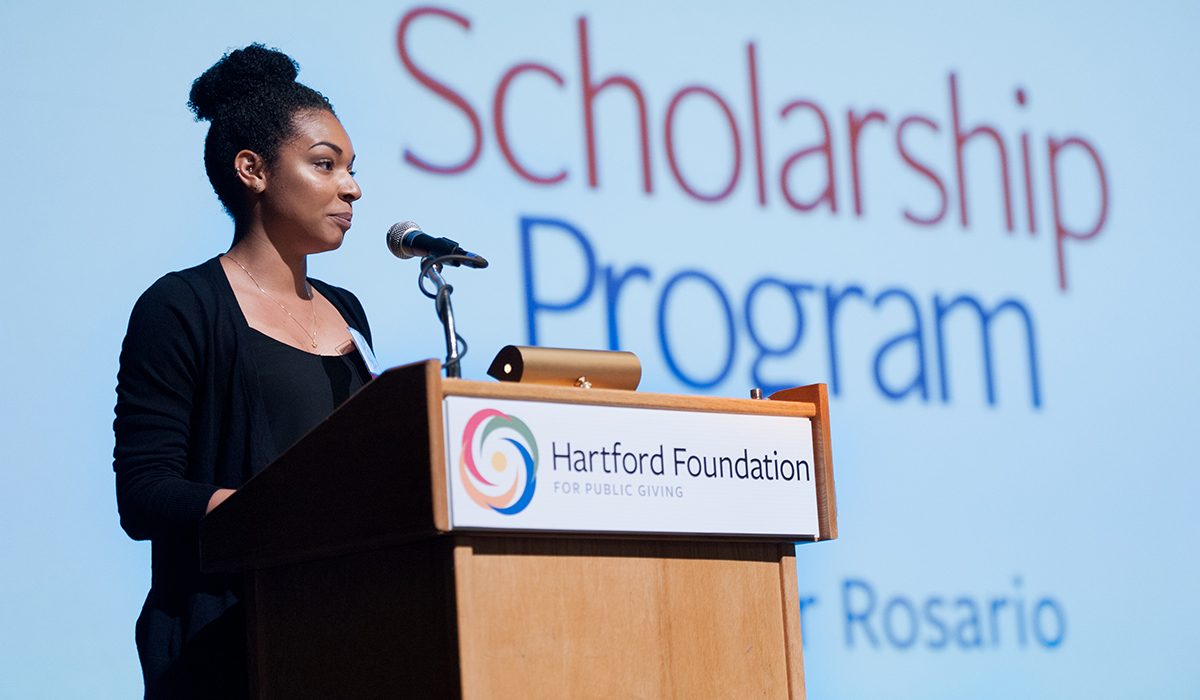 Since her childhood, Winifer Rosario dreamed of becoming a doctor—a career choice that combines her passions of learning and helping people—and she has worked diligently toward that dream. In high school, she took honors and advanced placement courses in math and science to help prepare her for college and her career choice. Winifer attended Hartford Public High School's Law and Government Academy, where she was a model student who excelled academically and participated in many extracurricular activities. Her high school teacher noted, "Winifer is an incredibly diligent student with a wonderful work ethic... a leader in her classes and community." Winifer's diligence was rewarded in 2013 when she received a scholarship from the Hartford Foundation.
In May 2017, Winifer graduated from Providence College with a bachelor of science degree in biology. Weeks later, she returned to Hartford to address attendees at the Hartford Foundation's 13th annual Scholarship Recipient Reception. She spoke candidly about her college experience and shared words of wisdom with this year's student recipients.
Winifer acknowledged that her road to success was not an easy one; it took perseverance and determination. She passed her first year receiving all As and Bs, but sophomore year proved to be more challenging. After receiving a D+ in her Organic Chemistry I course, Winifer was disappointed, but not discouraged, "Although it hurt to receive such a low grade, I was determined to do better. I was ready to try harder," she noted.
Having a four-year scholarship from the Hartford Foundation helped alleviate Winifer's fear of not having enough funds to continue learning and allowed her to focus on what was important: her education. She shared, "In my second semester of sophomore year, I redeemed myself and received a B in Organic Chemistry II. This served as a valuable learning experience: it is always possible to do more, and go beyond your limits. This challenging incident gave me the push that I needed to pursue my interests. I was determined to make the best out of my college years, and after sophomore year, I got involved in all that I could."
Winifer participated in a variety of extracurricular activities that enriched her undergraduate experience. She volunteered as a translator for Spanish-speaking families at a local high school, working closely with students, parents, and administrators. On campus, she joined PCTV, the college's student-operated television production organization; Bio Society, a club for biology majors; and joined a research lab.
"These experiences helped shape who I want to be and have given me a clearer picture of what I want to continue doing. Without this scholarship, I would not have had the time to be involved in my campus and in the community while maintaining a healthy, yet challenging, course load," she said.
Prior to entering her junior year, Winifer attended the Summer Medical and Dental Education Program at Yale Medical School. The intensive six-week program was designed to provide exposure to science, clinical medicine, and career counseling for motivated college students and graduates who want to attend medical school. Winifer says participating in the program helped solidify her interest in medicine and gave her the clarity that she needed to move forward and encouraged her to keep chasing her dreams.
Winifer continued her lab research at Providence College, and has since returned to Connecticut to pursue postgraduate opportunities. She clearly has the drive to make her dream of becoming a doctor a reality, and she serves as a wonderful example of the power of perseverance.